How Much Global Oil Output Halted Due to Low Prices? Just 0.1%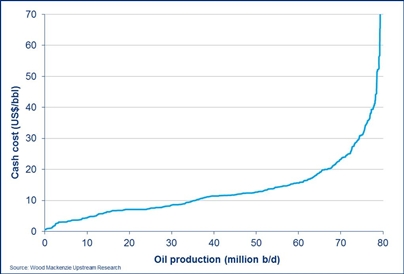 After a year of low oil prices, only 0.1 percent of global production has been curtailed because it's unprofitable, according to a report from consultants Wood Mackenzie Ltd. that highlights the industry's resilience.
The analysis, published ahead of an annual oil-industry gathering in London next week, suggests that oil prices will need to drop even more -- or stay low for a lot longer -- to meaningfully reduce global production.
OPEC and major oil companies like BP Plc and Occidental Petroleum Corp. are betting that low oil prices will drive production down, eventually lifting prices. That's taking longer than expected, in part due to the resilience of the U.S. shale industry and slumping currencies in oil-rich countries, which have lowered production costs in nations from Russia to Brazil.
The Wood Mackenzie analysis provides an estimate for the amount directly impacted by low prices -- to the tune of 100,000 barrels a day since the beginning of 2015 -- rather than output affected as new projects build up and aging fields decline. Canada, the U.S. and the North Sea have been affected the most by closures related to low prices.
'Take the Loss'
The International Energy Agency does estimate year-over-year change, and says global production in the fourth quarter was 96.9 million barrels a day. It forecast that outside the Organization of Petroleum Exporting Countries, output will fall this year by 600,000 barrels a day, the largest annual decline since 1992. Last year, non-OPEC output rose 1.4 million barrels a day.
"Since the drop in oil prices last year there have been relatively few production shut-ins," according to the report. The company, which tracks production and costs at more than 2,000 oilfields worldwide, estimates that another 3.4 million barrels a day of production are losing money at current prices, of about $35 a barrel. It cautioned against expecting further closures, because "many producers will continue to take the loss in the hope of a rebound in prices."
For major oil companies, a few months of losses may make more sense than paying to dismantle an offshore platform in the North Sea, or stopping and restarting a tar-sands project in Canada, which may take months and cost millions of dollars. "There are barriers to exit," said Robert Plummer, vice president of investment research at Wood Mackenzie.
The price of Brent crude, a global benchmark, has fallen from more than $100 a barrel in mid-2014 to a 13-year low of $27.10 a barrel last month.
'Irrational' Prices
Khalid al-Falih, chairman of Saudi Arabia's state-owned oil company, last month said current prices are "irrational" because they're too low to justify investment in new production. But he added: "In the short-term, while there is excess capacity, prices are set by variable costs and most producers are able to pay the cash cost within the current price."
Oil production may still fall as companies stop investing and drilling new wells, letting output naturally decline. As oilfields age, production typically goes down by 5 percent to 10 percent a year. The new U.S. shale wells have steeper decline rates, so companies' production drops faster if they don't drill new wells.
Beyond natural decline and lack of new investment, the Wood Mackenzie report signals that production will remain resilient. "Being cash negative simply means that production costs are higher than the price received. It does not necessarily mean that production will be halted."
Credit: http://www.bloomberg.com/