Oil prices steady, weak fundamentals weigh after volatile week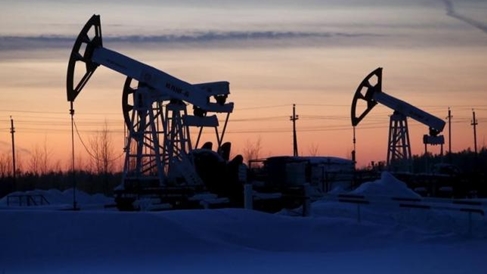 Crude oil futures steadied on Friday after earlier losses, as bearish fundamentals weighed on markets at the end of a volatile week that saw prices seesaw over 10 percent within a day.
International benchmark Brent crude futures LCOc1 were trading at $34.37 per barrel at 0917 GMT, down 9 cents from their last settlement after dipping below $34 earlier in the session. U.S. West Texas Intermediate (WTI) crude futures CLc1 were up 8 cents at $31.80 a barrel.
"The surplus situation continues to weigh on the front end while the softer dollar has been able to support the longer-term contracts, at least in Brent crude," Bjarne Schieldrop, chief commodities analyst with SEB in Oslo, said.
Traders said liquidity had been low during Asian business hours due to the Lunar New Year holiday which will last for most of next week.
Oil prices have been extremely volatile since the start of the year, and in particular this week, as a string of bullish indicators like a slump in the dollar .DXY and potential talks on output cuts clashed with bearish reports of record U.S. crude inventories, higher output and a slowing global economy.
"We expect that volatility could remain elevated especially on upward moves from short covering; net length in WTI is at its lowest level since 08/01/2013 implying a large short position," Investment bank Jefferies said on Friday.
BMI Research, a unit of rating agency Fitch Group, said that "bloated crude inventories in the U.S. pose rising risk to WTI" and that "a continued build in storage over the coming six to eight weeks could collapse the price of WTI, driving a sharp reopening of the spread to Brent."
U.S. crude inventories USOILC=ECI climbed 7.8 million barrels in the week to Jan. 29 to 502.7 million barrels. Gasoline inventories USOILG=ECI rose to a record high, soaring 5.9 million barrels to 254.4 million barrels.
Brimming storage is contributing to an overall bearish market outlook as long as major producers don't reach an agreement on output, with China's economic slowdown now showing signs of spreading across the world.
"It's not exactly rosy out there.. Shipments to China are down... Most worrying for anyone hoping for a lift is that U.S. purchases have dipped again, with lacklustre capex partly to blame," HSBC said.
Credit: http://www.reuters.com/