Asian stock markets mostly lower as oil extends fall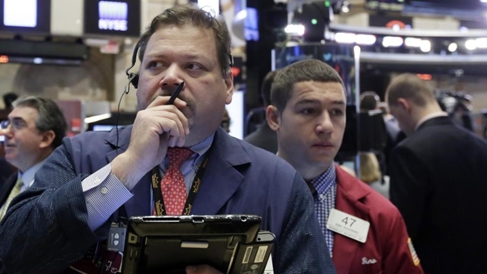 SEOUL, South Korea (AP) — Asian stock markets were mostly lower Tuesday as the price of oil extended losses following a 6-percent plunge that was sparked by data showing a manufacturing slowdown in the world's two largest economies.
KEEPING SCORE: Tokyo's Nikkei 225 was flat at 17,864.70 and South Korea's Kospi dipped 0.3 percent to 1,918.28. Hong Kong's Hang Seng was nearly unchanged at 19,590.37. The Shanghai Composite in mainland China rose 1.6 percent to 2,732.81. Australia's S&P/ASX 200 dropped 0.4 percent to 5,024.20. Stocks in Taiwan, Singapore, Indonesia and the Philippines were lower.
SLOWING MANUFACTURING: The Institute for Supply Management said on Monday that U.S. factory activity shrank in January for a fourth straight month as a strong dollar and weak demand overseas pinched American manufacturers. The ISM's manufacturing index followed a survey showing a slowdown in China's manufacturing. China's official survey found that manufacturing fell to its lowest level in more than three years.
OIL SLIDE: The two reports sent the price of oil sharply lower. Benchmark U.S. oil was down 48 cents to $31.14 per barrel in electronic trading on the New York Mercantile Exchange. On Monday, the price of U.S. benchmark oil plunged $2, or 5.9 percent, to $31.62 a barrel in New York. Brent crude was down 46 cents to $33.82 in London.
ANALYST'S TAKE: "Manufacturing is (the) leading edge of a global growth slowdown," Tim Condon, head of Asia research at ING, said in a daily report. "We think the 50 percent crash in global oil prices in the second half of 2014 caused the manufacturing slump by crushing commodity producers' spending. However, we also think that in 2015 weaker manufacturing, especially in China, began to drive down oil prices. The negative feedback loop is causing severe strains."
WALL STREET: On Monday, U.S. stock markets closed slightly lower after sharp losses. The Dow Jones industrial average fell 0.1 percent to 16,449.18. The Standard & Poor's 500 finished down less than 0.1 percent to 1,939.38 and the Nasdaq composite rose 0.1 percent to 4,620.37.
CURRENCIES: The dollar fell to 120.86 yen from 120.95 yen in the previous trading session. The euro slipped to $1.0895 from $1.0900.
Credit: http://finance.yahoo.com/