ADG Book is now available for sale online!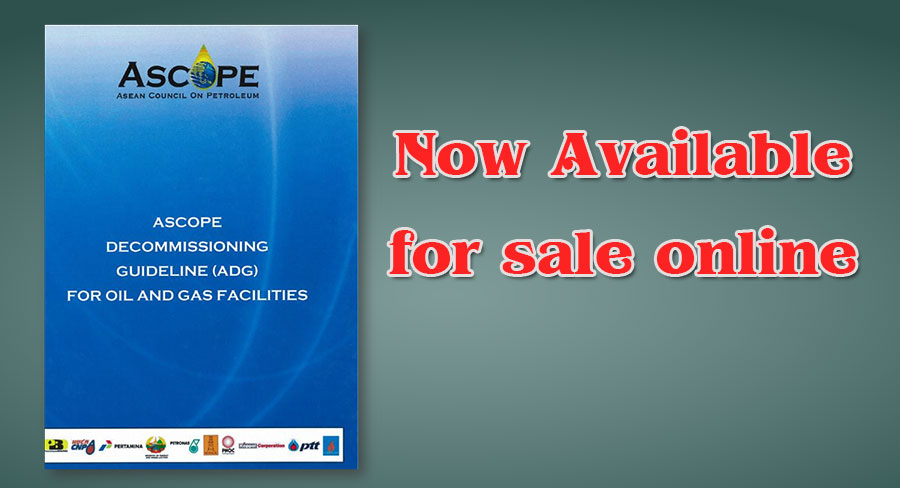 What is ADG Book?
Decommissioning is part of the life cycle of an offshore installation. Decommissioning is a complex multi-disciplined process with an overall timescale normally lasting several years, requiring the management of diverse issues and involving international and government agencies, oil producing companies, third party contractors, local communities, and non-government organizations.
The objective of this ASCOPE Decommissioning Guideline (ADG) is to outline the option of flexibility to the ASCOPE Member Countries have within the existing legal framework, enabling each to achieve a defensible and balanced decommissioning solution for each decommissioning project. The ASEAN Council on Petroleum (ASCOPE) has sanctioned the development of the ADG for Oil and Gas Facilities. The ADG is a regional decommissioning guideline tailored to the ASCOPE Member Countries with concurrence by the ASCOPE National Council for adoption by the ASCOPE Member Countries in accordance to the international laws & regulations and complying with the national legislations of each Member Country.
The ADG is designed to provide a strategic framework for offshore decommissioning of oil and gas Facilities and is not intended to be prescriptive. The ADG will be reviewed regularly and updated as required. It is hoped that the ADG will make the process of submission and approval of a decommissioning programme as flexible as possible within statutory and policy constraints, allowing adequate time for full and considered consultation but without unnecessary delay. The ADG should be flexible and consider decommissioning of all facilities and pipelines on a case-by-case basis, and acknowledges that differing approaches may be required.
What topics are included in ADG?
1 INTRODUCTION
2 INTERNATIONAL DECOMMISSIONING LAWS, REGULATIONS & GUIDELINES REFERENCED IN DECOMMISSIONING
2.1 INTERNATIONAL LAW, REGULATION & GUIDELINES USED IN DECOMMISSIONING
2.1.1 United Nations Convention on the Continental Shelf 1958 (Geneva Convention 1958)
2.1.2 United Nations Convention on the Law of the Sea 1982 ("UNCLOS")
2.1.3 I.M.O. Guidelines and Standards (1989)
2.1.4 London Dumping Convention (1972)
2.1.5 1996 Protocol to the Convention on the Prevention of Marine Pollution by Dumping of Wastes and Other Matter of 29 December 1972
2.1.6 The Basel Convention on Transboundary Waste
2.2 OTHER INSTRUMENTS WHICH MAY AFFECT REGIONAL DECOMMISSIONING
2.2.1 Regional Laws & Regulations applicable to Decommissioning In ASCOPE Region
2.2.2 National Laws & Regulations applicable to Decommissioning
2.2.3 Decommissioning Clauses in Production Agreements
2.2.4 Non –Governmental instruments applicable to Decommissioning
3 TECHNICAL DECOMMISSIONING & DISPOSAL OPTIONS
3.1 REUSE IN THE PETROLEUM INDUSTRY
3.2 OTHER USES
3.2.1 Reuse as an Artificial Reef
3.3 REMOVAL & DISPOSAL
3.3.1 Deconstruction Methods Applicable to Both Topsides and Jacket decommissioning
3.3.2 Deconstruction Methods Applicable Topsides Decommissioning
3.3.3 Deconstruction Methods Applicable Jacket Decommissioning
3.4 LEAVE IN PLACE
3.5 ISSUES NOT DEFINED IN CONVENTIONS SIGNED BY ASCOPE MEMBERS
3.5.1 Pipelines
3.5.2 Subsea Facilities
3.5.3 Floating Production, Storage and Offloading Facilities
3.5.4 Use of Explosives in Subsea Decommissioning
3.5.5 Well Plugging & Abandonment
3.5.6 Drill Cuttings & Shell Mounds
3.5.7 Exceptional Circumstances
4 PLANNING FOR DECOMMISSIONING
4.1 INTRODUCTION
4.2 DECOMMISSIONING AS PART OF THE LIFE CYCLE OF AN OIL OR GAS FIELD
4.3 REPORTING STAGES IN DECOMMISSIONING
4.3.1 STAGE 1: Annual Review of Cost Estimate and Decommissioning Liability
4.3.2 STAGE 2: Preparation & Submission of a Preliminary Decommissioning Study
4.3.3 STAGE 3: Discussions with Government Authority & Submission of Draft
4.3.4 STAGE 4: Formal Submission of Decommissioning Plan & Approval Process
4.3.5 STAGE 5: Implementation of Decommissioning Programme
4.3.6 STAGE 6: Management of Post Decommissioning Liability
4.4 EXCEPTIONAL CONSIDERATIONS
4.4.1 Flexible Decommissioning Campaigns
4.4.2 Cold Phase or Lighthouse Mode Decommissioning
4.4.3 Decommissioning of Facilities in JDA and Median Line Fields
5 IMPACT ASSESSMENT
5.1 ENVIRONMENTAL IMPACT ASSESSMENT
5.2 TYPICAL ENVIRONMENTAL ISSUES
5.2.1 General Issues
5.2.2 Onshore Disposal Options
5.2.3 Deep-Water Disposal Options
5.2.4 In-Situ Disposal
6 RESIDUAL LIABILITY IN DECOMMISSIONING
6.1 INTRODUCTION
To order ADG Book, please contact thangnv@pvn.vn or nhatdh@pvn.vn
| | |
| --- | --- |
| Product | Price |
| ADG Book Hard Copy | $100 |
| ADG Book Soft Copy (Single-user license) | $80 |
* excluding bank charge and shipping cost.