ASCOPE PARTICIPATED AT SOME+3 EPGG FORA 2021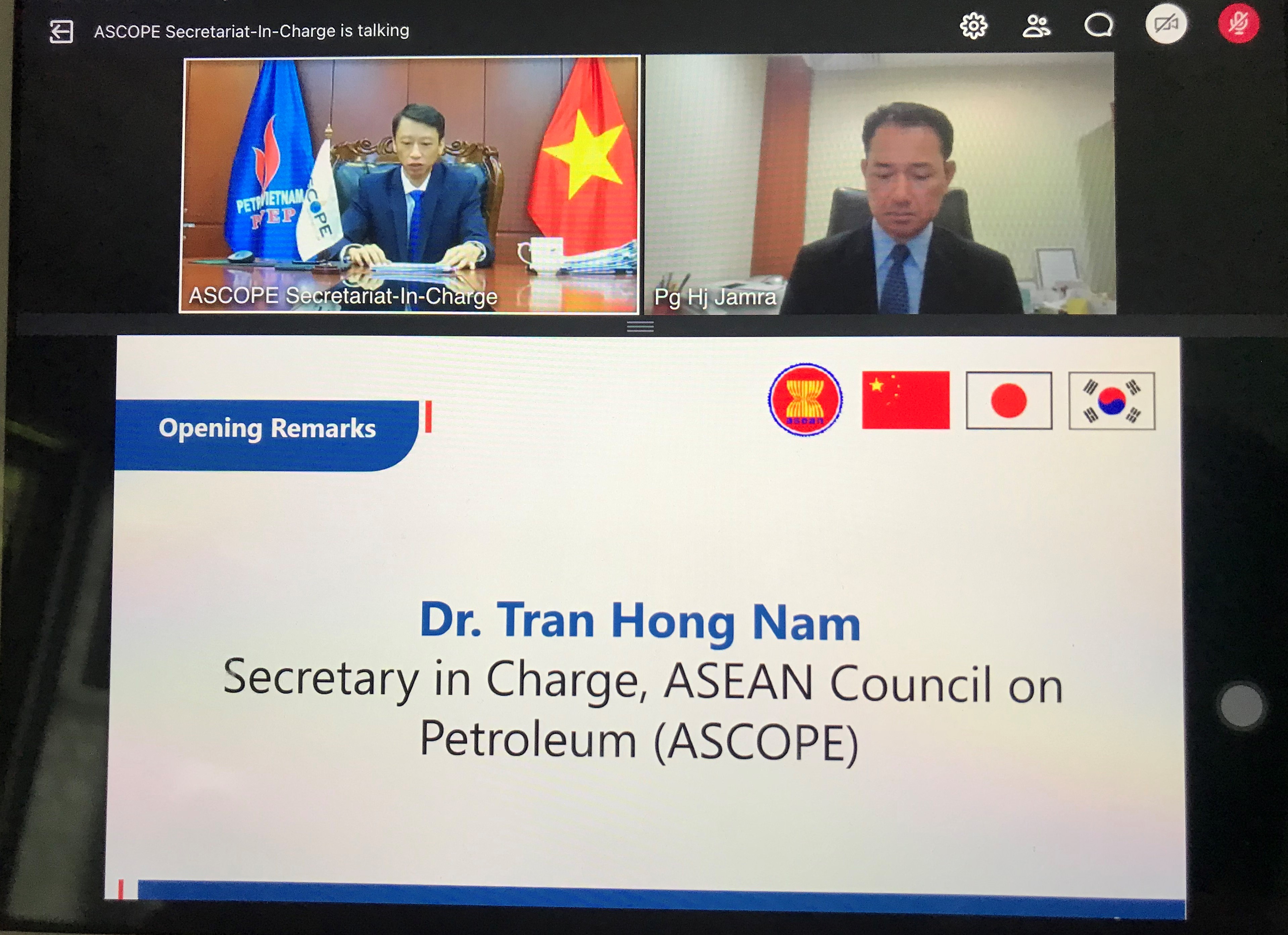 The ASEAN+3 Senior Officials' Meeting on Energy (SOME+3) Energy Policy Governing Group Fora 2021 (SOME+3 EPGG FORA 2021) were held on 16, 18 & 19 August 2021 via online platform. The fora were chaired by the Ministry of Energy, Brunei Darussalam and attended by ASEAN Senior Officials on Energy (SOE) Leaders, ASEAN + 3 Leaders from China, Japan and Korea, ASEAN Centre for Energy (ACE) and ASCOPE.
At the 10th ASEAN+3 Oil Market and Natural Gas Forum and Business Dialogue on 16 August, 2021, as Co-chair, Dr. Tran Hong Nam, ASCOPE Secretary –In- charge underlined the importance of fossil fuels which remain dominating as the primary energy consumption in ASEAN (92%) with oil and gas contributing around 60% of the total amount in 2020. It is projected that fossil fuels will account for around 85% of global primary energy supply share in 2040. However, the oil and gas industry has been confronting huge challenges such as declining oil production and no significant additional reserves in the last decade. Prolonged low oil price and moderate demand recovery impacted by the Covid-19 pandemic continue to pose difficulties to the industry.
As a solution to the region's clean energy supply, at the meeting, ASCOPE delivered updates on the on-going Small-Scale LNG Regional Feasibility Report which is one of the deliverables under technical assistance for ASCOPE from the U.S. Department of State
Joining the 9th workshop of ASEAN+3 Oil Stockpiling Roadmap and the 18th ASEAN+3 Energy Security Forum on 18 & 19 August 2021, respectively, ASCOPE delivered presentation on updates of the Trans-ASEAN Gas Pipeline (TAGP) Programme Area under APAEC Phase II: 2021 – 2025.
Enhancing energy collaboration with China, Japan, and South Korea, the three day SOME+3 EPGG FORA 2021 with valuable information update and sharing on oil and gas market development, oil stockpiling and energy security has helped navigate the region's energy landscape and explore potential opportunities.
Photo: Dr. Tran Hong Nam, ASCOPE Secretary – In –charge (ASIC) delivered opening remarks as Co- chair of the 10th ASEAN+3 Oil Market and Natural Gas Forum and Business Dialogue